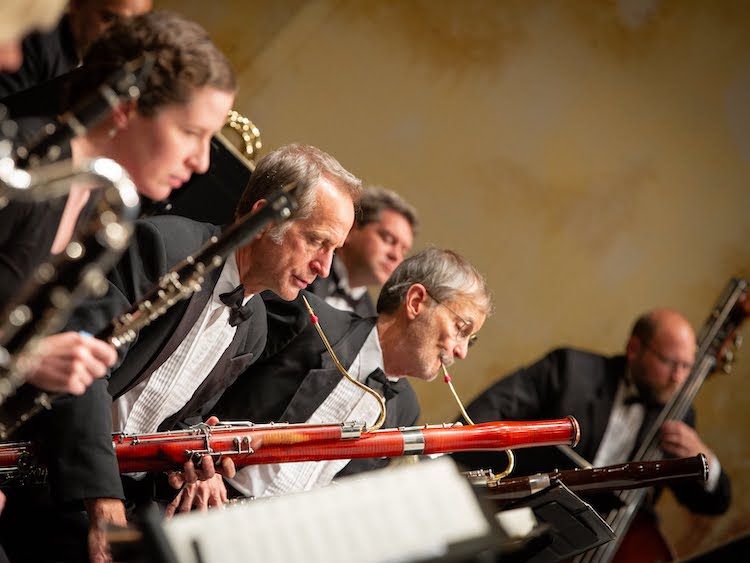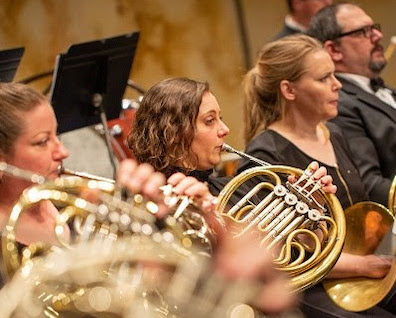 We are excited to announce our 2021-2022 Concert Season!
October 16, 2021 "Return to Life" sponsored by Gundersen Health System
November 13, 2021 "Heroic Journeys" sponsored by Advisors Management Group
December 17 and 18, 2021 "An Old World Holiday" sponsored by Hale Skemp Hanson Skemp & Sleik and I.D.ology
March 5, 2022 "The Young Tchaikovsky and Rising Stars" sponsored by O'Flaherty Law and Brickl Bros.
April 9, 2022 "Springtime Pops" sponsored by Oral Surgery Clinic of La Crosse
May 7, 2022 "Celebrate La Crosse, Celebrate America" sponsored by Trust Point
Get your season tickets now by clicking below or calling the office at 608-783-2121. Read all about our season below.
For more information
Contact the LSO office at (608) 783-2121
"The Return to Life"
Composed as a kind of symphonic poem alongside Shining Brow, Daron Hagen's landmark opera for the Madison Opera based on the life of Frank Lloyd Wright, Fire Music is an essay in the pulsating power of music as a life force.  Russian powerhouse Ilya Yakushev, who wowed La Crosse several years ago in a stunning rendition of Tchaikovsky's First Piano Concerto, makes a welcome return to the LSO in Prokofiev's equally riveting Piano Concerto No. 3, famously premiered with the composer at the piano and the Chicago Symphony Orchestra in 1921.
We conclude with three of the most radiant tone poems ever written, by one of giants of classical music -- Finland's great romantic, Jean Sibelius -- from the haunting elegy of The Swan of Tuonela  to Lemminkäinen's Return, one of the most hair-raising finales of all time!
ILYA YAKUSHEV, piano
DARON HAGEN:  Fire Music (1992)
SERGEI PROKOFIEV:  Piano Concerto No.3 in C Major
JEAN SIBELIUS:  Three Legends from the Kalevala, Op.22   
Lemminkäinen and the Island Maidens
The Swan of Tuonela
Lemminkäinen's Return
SPONSORED BY GUNDERSEN HEALTH SYSTEMS

"Heroic Journeys"
Brilliant world-class violinist and cancer survivor, Elissa Lee Koljonen's musical journey is a story of courage and triumph.  She'll be the perfect advocate for one of the great American violin concertos:  the lush, tuneful and romantic Concerto composed by Samuel Barber, written shortly after his inimitable Adagio for Strings.  Another great American composer active in the World War II era was William Grant Still -- "the Dean of Afro-American Composers," whose work is only now receiving its due in the wake of the 125th anniversary of his birth.  Richard Strauss' magnificent tone poem from 1889 brings together an evening in which we remember many heroic journeys -- from the heroism of our veterans, to the millions of heroes and lost loved ones from the coronavirus pandemic.
ELISSA LEE KOLJONEN, violin
ARRON COPLAND:  Fanfare for the Common Man (1942)
WILLIAM GRANT STILL:  In Memoriam:  The Colored Soldiers Who Died for Democracy (1943)
BOB LOWDEN:  Armed Forces Salute
SAMUEL BARBER:  Violin Concerto, Op. 14 (1939)
RICHARD STRAUSS:  Death and Transfiguration, Op. 24
SPONSORED BY ADVISORS MANAGEMENT GROUP

"An Old World Holiday"
Christmas and Hanukkah traditions come together in a joyous musical Holiday celebration, paying tribute to our Coulee region and full of the flavor of Old Vienna.  Katherine Weber -- Holmen native, Viterbo graduate, and now making an operatic career in Europe -- joins the LSO for some of the very greatest Holiday gems for soprano and orchestra.  And in another LSO tradition, the young musicians of the La Crosse Area Youth Symphony Orchestra join forces with our artists onstage to create another memorable evening, performing timeless scenes from the most beloved of Christmastime operas.
KATHERINE WEBER, soprano   
With members of the La Crosse Area Youth Symphony Orchestra, Randy Mastin, Director
LEROY ANDERSON: A Christmas Festival   
MATT RILEY:  We Three Kings (Aaron Schwartz, violin)   
LUCAS RICHMAN:  Hanukkah Festival Overture
MOZART:  "Alleluja" from Exultate, jubilate, K.165
ADOLPHE ADAM:  O Holy Night
MAX REGER:  Mary's Cradle Song 
BACH /GOUNOD:  Ave Maria
RICHARD RODGERS:  "My Favorite Things" from The Sound of Music
FRANZ LEHAR: "Vilja Song" from The Merry Widow   
______________________________________________________________________________
With the La Crosse Area Youth Symphony Orchestra
HUMPERDINCK:   Selections from Hansel and Gretel
       Prelude, Witch's Ride, Sandman's Song, Evening Prayer, Pantomime
        JOHN FINNEGAN:  A Christmas Sing-Along including "Rock of Ages"
SPONSORED BY HALE SKEMP HANSON SKEMP & SLEIK AND I.D.OLOGY

"The Young Tchaikovsky and Rising Stars"
Join the LSO as we once again showcase the talents of four of the finest musicians from our entire region, playing movements from famous virtuoso concertos from memory in the real-time final round of our annual Rising Stars Competition.  While the jury is choosing the grand prize winner -- the very youthful and amazing First Symphony of Peter Tchaikovsky, in reality a series of majestic tone poems depicting the many moods of a Russian winter.
Two Concerto Movements with Instrumental Finalists
Two Concerto Movements with Piano Finalists
TCHAIKOVSKY:  Symphony No. 1 in G Minor, "Winter Dreams"
sponsored by O'FLAHERTY LAW AND BRICKL BROS.

"Springtime Pops: The Best of the British Movie Scores"
Alessio Bax -- piano soloist with many of the world's finest orchestras, and the LSO's own Italian movie star -- makes a welcome return to La Crosse to share his artistry in one the most beloved of Russian romantic piano concertos, used in countless moments in film and television but here in all its original glory!  The evening's first half celebrates some of the best British film scores through the years -- the tip of the iceberg in great cinema traditions.
ALESSIO BAX, piano
WILLIAM WALTON:  Crown Imperial March 
Symphonic selections from Downton Abbey, Lord of the Rings, Dances with Wolves, Chariots of Fire,
Somewhere in Time, and the "Dog Fight Suite" from Hans Zimmer's Dunkirk
JOHN WILLIAMS:  Music from Harry Potter and the Sorcerer's Stone
RACHMANINOV:  Rhapsody on a Theme of Paganini
sponsored by Oral Surgery Clinic of La Crosse

"Celebrate La Crosse, Celebrate America"
The LSO rounds up another magnificent season with a stunning grand finale that brings our great community together.  June sees the revival of our legendary "Conductor Wannabe" competition, in which our two top fundraisers for the Symphony show off their new-found conducting skills.  And once upon a time, just upriver -- Carl Ruggles, the founding music director of the Winona Symphony Orchestra, was starting to sketch his gritty and imposing masterpiece Men and Mountains, inspired by the poetry of Walt Whitman.  Music's greatest honorary "American Original" was surely the Bohemian master Antonín Dvořák, who began to compose his immortal Cello Concerto while summering in the Czech community of Spillville, Iowa, just down the road from us in 1894!  Gabriel Cabezas, a twice-honored Laureate of the famed Sphinx Competition for outstanding young instrumentalists of color who has already played the work with some of America's finest orchestras, brings it to life for us.  And bursting with genius and energy -- as Richard Wagner termed it, "The Apotheosis of the Dance" -- Beethoven's amazing Seventh Symphony brings the LSO's season to a rousing close.
GABRIEL CABEZAS, cello
CARL RUGGLES:  Men and Mountains (1924)
            ANTONÍN DVOŘÁK:  Cello Concerto in B Minor, Op. 104
With the LSO's Winning Wannabe conductors   
ELGAR:   "Pomp and Circumstance" March, No. 1
BIZET:  "March of the Toreadors" from Carmen
sponsored by TrustPoint