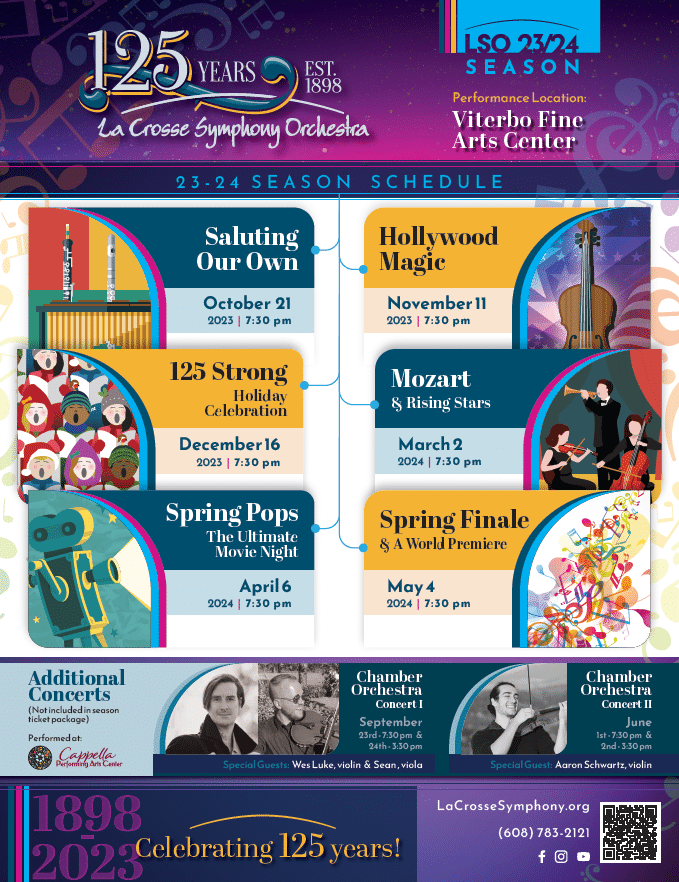 We are excited to announce our 2023-2024 Concert Season with Maestro Alexander Platt!
October 21, 2023: "Saluting Our Own" with Mary Beth Hensel, oboe; Jonathan Borja, flute; and Matthew Coley, marimba. Sponsored by: Citizens State Bank and Dr. Jeff & Dr. Lisa A. Drexler
November 11, 2023: "Hollywood Magic" with Alexi Kenney, violin. Sponsored by: Advisors Management Group
December 16, 2023: "125 Strong: A Holiday Celebration" with a 125-member choir led by James Wilson from Viterbo University. Sponsored by: Hale Skemp Hanson Skemp & Sleik and Roz Schnick
March 2, 2024: "Mozart and Rising Stars!" Sponsored by: O'Flaherty Law and Jan & Tom Brock
April 6, 2024: "Spring Pops - The Ultimate Movie Night" with hosts Dustin and Dominique Luecke. Sponsored by: ISG
May 4, 2024: Spring Finale a World Premiere" with Andrey Gugnin, piano. Sponsored by: Trust Point
Single Ticket Sales: Available September 1st.
For more information
Contact the LSO office at (608) 783-2121