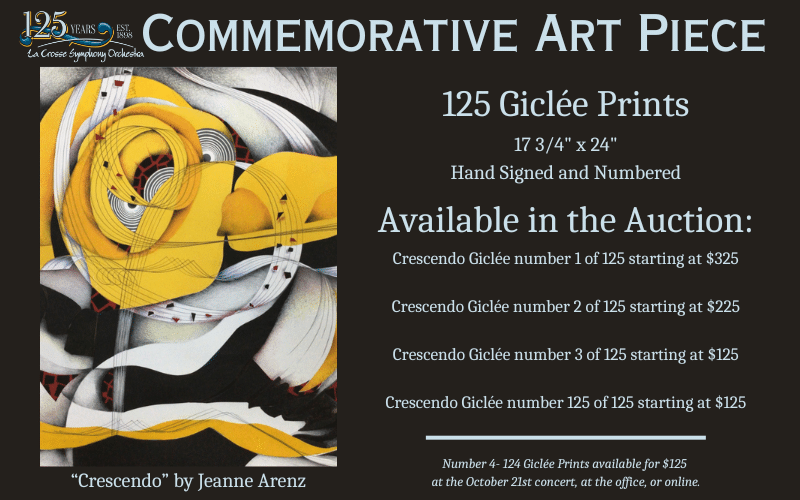 125 Commemorative GICLÉE Prints for $125
Glicée Prints numbered 4 - 124:  Go on sale online at 3:00 pm Oct 20. We will give out the art pieces in order of the orders made starting with the lowest number availalbe. Link below.
Pick up: You may pick up your art piece at the office during office hours: Mon-Thurs 9am to 3pm or at any concert in the FSPA lobby at the end of the concert.
Celebrate the LSO's 125th anniversary with a limited edition commemorative fine art quality Giclée print! Designed by La Crosse-based artist Jeanne Arenz, the piece captures "the heart-pounding satisfaction of a crescendo" that often leads into an amazing finale by the LSO. Each Giclée print is numbered and signed by the artist.
Title: Crescendo
Artist: Jeanne Arenz
Style & Materials: Monotype with Akua Ink and Colored pencil
Size: 17.75"w x24"h
Sales for numbers 4 through 124 will be online starting at 3:00 pm online at the link below. Also available at the concert. Art Pieces can be picked up at office or at the concert.
*Prints will be available for pickup at the LSO office (201 Main Street Ste. 230) during open hours Mon-Thurs 9am-3pm or at our concerts in the Viterbo Fine Arts Center FSPA Lobby after the concert.
"CRESCENDO" by Jeanne Arenz
Original art piece will be auctioned at the Valentine Ball Auction on February 10, 2024