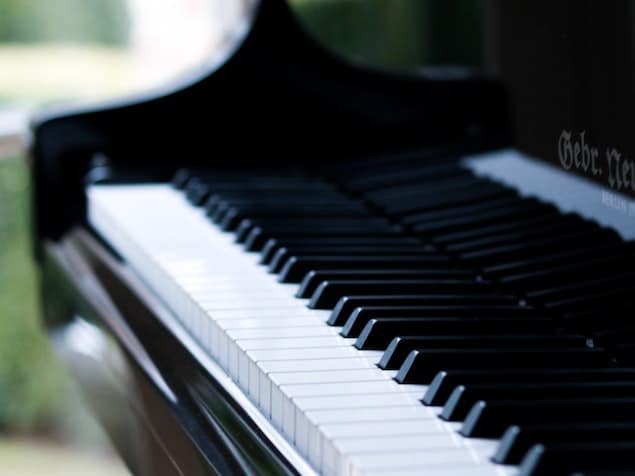 Lauded in Gramphone for his "abundant energy, powerful fingers, big sound, and natural musicality" and praised by the San Francisco Chronicle for his "Fervency and panache," American pianist CHRISTOPHER ATZINGER is celebrated for insightful performances and a reputation for excellence.
Christopher Atzinger has performed extensively throughout the United States and Europe, highlighted by appearances at Carnegie Hall (New York), Salle Cortot and American Cathedral (Paris), St. Martin-in-the-Fields (London), National Concert Hall (Dublin), The Grieg Academy (Bergen), American Academy (Rome), Academy of Music (Krakow), Liszt Museum (Budapest), Barocco Cultural Arts (Valletta), Smithsonian Gallery of American Art and The Phillips Collection (Washington, DC) and Dame Myra Hess Series (Chicago). Festival appearances include the Banff International Keyboard Festival, Brevard and Mendocino music festivals, Bridge Chamber Music Festival, and the Chautauqua Institution.
As guest soloist, Christopher Atzinger has appeared with the Louisiana Philharmonic Orchestra, North Carolina's Brevard Repertory Orchestra, and the symphony orchestras of Duluth Superior, Jackson (MI), McAllen (TX), Shreveport, Springfield (MA), and St. Olaf, under the batons of Steven Amundson, Peter Dabrowski, Dirk Meyer, Stephen Osmond, Kevin Rhodes, Mischa Santora, Klauspeter Seibel, Dennis Simons, and Steven Smith.
Christopher Atzinger's live performances have aired on radio stations WFMT-Chicago, WJR-Detroit, WXEL-South Florida, KPAC-San Antonio, WUOL-Louisville, and WGTE-Toledo, while his artistry has also been heard on WGBH-Boston, KING-Seattle and Kansas, Minnesota, New England, South Dakota, and Wisconsin Public Radio, as well as on television stations in Chicago and Cincinnati.
On CD, Christopher Atzinger has three highly praised albums released on MSR Classics - a debut solo recording of Bach, Beethoven, Barber, and Fritze; an all-Brahms album; "American Lyricism" with scores by Richard Danielpour, Monica Houghton, Pierre Jalbert, Justin Merritt, and Christopher Theofanidis. He has also recorded works of Judith Lang Zaimont for Naxos and music of Amy Beach for Centaur Records. A disc devoted to the music of John Knowles Paine was released on the Delos label in the spring of 2019.
Christopher Atzinger is a medalist of the Cincinnati, New Orleans, San Antonio, Shreveport, and Seattle international piano competitions. He was also a winner of the National Federation of Music Clubs Artist Competition and the Simone Belsky Piano Competition, as well as the Premio Città di Ispica prize at the IBLA Grand Prize Competition in Italy. Additionally, he is the recipient of grants and fellowships from the Theodore Presser Foundation, Foundation La Gesse, American Composers Forum, Minnesota State Arts Board, and Joyce Dutka Arts Foundation. He is also a 2012 recipient of a McKnight Fellowship for Performing Artists.
Christopher Atzinger holds degrees from the University of Texas at Austin and the University of Michigan and earned the Doctor of Musical Arts degree in piano performance from the Peabody Conservatory of Johns Hopkins University. Among his principal teachers, he counts Julian Martin, Robert McDonald, Anton Nel, David Renner, and Carolyn Lipp. Additional keyboard studies were undertaken with Timothy Lovelace, Edward Parmentier, and Penelope Crawford. A dedicated teacher and coach, himself, Dr. Atzinger served on the faculty of Pennsylvania's Dickinson College, prior to his current appointment at St. Olaf College in Minnesota. He has also lectured at The Juilliard School and Berklee College of Music and conducted master classes throughout the United States.